MSc in Global Mental Health
The Global Mental Health MSc is jointly run by the London School of Hygiene & Tropical Medicine and King's College London, providing a unique course of study for students who wish to gain a comprehensive understanding of the issues surrounding the new discipline of global mental health. You will acquire the knowledge and skills required to design, implement and evaluate mental health programmes in low resource settings as well as learning how to conduct and critically evaluate research. Our course constitutes an excellent preparation for careers in policy, public health, research and work in international agencies.
Course objectives
By the end of the programme, students will able to:
demonstrate knowledge and understanding of the mental health challenges facing low resource settings
devise locally appropriate and feasible strategies to reduce the burden of mental disorders
develop research protocols to investigate key issues in global mental health including epidemiological, intervention- and policy-related questions
apply research skills to monitor and evaluate mental health programmes
Career prospects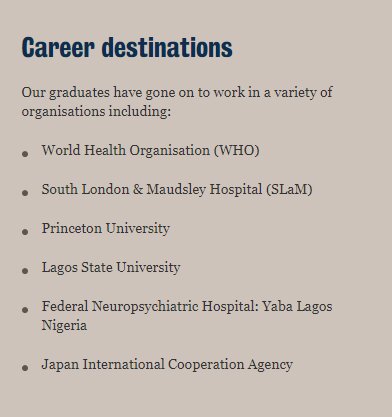 Our graduates will be well-equipped to enter careers in national mental health policy and planning, epidemiological and mental health services research, and advisory and advocacy roles in government, international agencies and non-governmental organisations.