Mental Health for Development Professionals (Cancelled)
06 Apr 2020, 17:30 to 19:30
John Snow, Keppel St, LSHTM
Global Mental Health Seminar Series Presents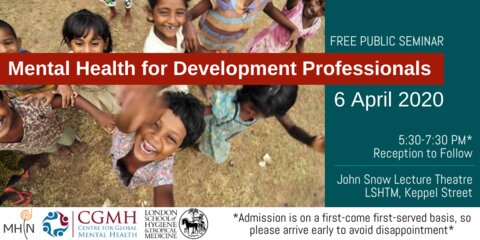 Please note: Due to the ongoing COVID-19 outbreak, we have taken the decision to cancel this Centre for Global Mental Health Seminar Series event, due to be held on 6th April.
---
Mental Health for Development Professionals
Time: 5:30-7:30pm
Location: John Snow Lecture Theatre,
LSHTM
While mental health was left out of the Millennium Development Goals, mental health and well-being are now covered under a number of the Sustainable Development Goals. However, mental health can seem like a challenging topic to broach. Many people working in international development don't feel they have the confidence to start engaging with it.
This seminar will bring together development professionals and academics working in mental health to formally launch a new K4D-DFID Topic Guide on mental health for development professionals, and to discuss some of the key questions that those working in international development often have about mental health:
How does mental health impact my work in development, and vice-versa?
What are some of the entry-points to "do more and do better" in mental health?
Are there clear examples of promising and best practice that show this is possible "in the real world"?
This seminar is co-hosted by the Centre for Global Mental Health (CGMH) and the Bond Disability Sub-Group on Mental Health. Drinks reception to follow. Free and open to the public. First come, first served, so please arrive early to avoid disappointment.