Chesmal Memorial Lecture 2022
26 July 2022
Online (Zoom)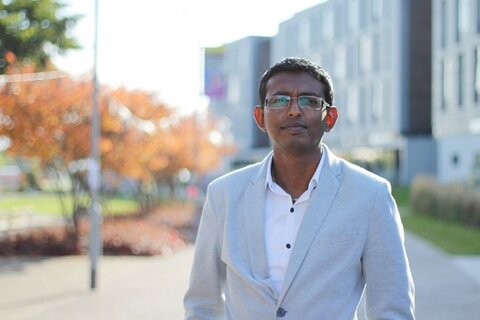 The Centre for Global Mental Health would like to invite you to the Chesmal Memorial Lecture 2022.
The Chesmal Lecture Series is brought to you annually by the Centre for Global Mental Health in the memory of our colleague Dr. Chesmal Siriwardhana, who was a talented young researcher, whose focus of work was in mental health and humanitarian settings. The lectures follow this theme each year.
This year the lecture will be delivered by Dr. Mark van Ommeren discussing the Mental Health and Psychosocial Supports in Humanitarian Settings: Lessons Learned. The lecture will be chaired by Dr. Julia Rozanova.
The lecture will be held fully online on the 26th of July from 15:00 to 16:00 (BST).

Please register your attendance here to be able to access the zoom link for the lecture.
Speaker: Dr Mark van Ommeren

Mark van Ommeren, PhD, is Head of the Mental Health Unit within the WHO Department of Mental Health and Substance Use. The Unit covers a wide range of topics including advocacy, suicide prevention, services across the life course, essential medicines, innovation and research in psychological interventions, and mental health in specific settings (e.g., the workplace, humanitarian emergencies). Recently he coordinated the writing of the World Mental Health Report: Transforming Mental Health for All.
Much of his previous work has focused on initiating and developing inter-agency mental health policy for humanitarian settings (eg Sphere standard, IASC guidelines) with linked implementation tools; developing, testing and disseminating a range of scalable psychological interventions; and "building back better" mental health services across different levels of the health system after major emergencies.
In 2005 Mark introduced the term "mental health and psychosocial support (MHPSS)" into the development of inter-agency humanitarian guidelines, which has helped reduce inter-agency fragmentation and facilitated intersectoral collaboration in this area of work.
Chair: Dr Julia Rozanova

Julia Rozanova, PhD, is the co-leader and lecturer in the MSc Global Mental Health at King's College London and London School of Hygiene and Tropical Medicine. She organized the "Cutting Edge Panel" series that addressed key topics in the field, as well as the Global Mental Health in Humanitarian Crises panel series bringing together key stakeholders in the humanitarian field to influence future research, practice and improve mental health outcomes for those affected by crises.
She received her PhD in sociology from the University of Alberta and did postdoctoral training in social gerontology and implementation science at Yale University. Her research expertise is in ageism, peer-interventions, mental health, and inequalities of healthy aging. Julia's current work, funded by the National Institute on Drug Abuse and the National Institute on Aging (USA) focuses on the interplay between aging, HIV, and mental health, especially addiction. Over the last six years, she has conducted research in low and middle-income countries in Eastern Europe and Central Asia (EECA) on scaling up primary and secondary HIV prevention and treatment efforts using peer-interventions both in prison and in community settings.
Julia partners with the EECA researchers, HIV, addiction, and mental health clinicians, and NGOs for people living with HIV, to examine experiences of HIV diagnosis among older adults, and explore how peer support mitigates substance use disorder and mental ill health as barriers for delaying the start of ART in older adults. Her work seeks to reduce inequalities of healthy aging with HIV and help older individuals with stigmatized chronic diseases attain a good health-related quality of life, between LMICs and high-income countries.