AMARI 2018 ASM: "Building networks for mental health research excellence in Africa"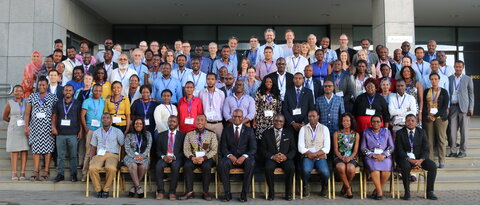 The African Mental Health Research Initiative (AMARI) held its Annual Scientific Meeting (ASM) on the 15th and 16th of March 2018 in Malawi at the Bingu Wa Mutharika Convention Centre in Lilongwe. The two day ASM was attended by prominent global mental health researchers, delegates from the Malawi government – including its Minister of Health, representatives from various health organizations, AMARI stakeholders and research fellows, amongst others. Several members of CGMH participated in the meeting including Dr Melanie Abas, Dr Charlotte Hanlon, Dr Lorna Gibson, Dr Chris Merritt, Professor Ricardo Araya, Professor Paul McCrone, Dr Claire Henderson, Professor Richard Harding, Professor Martin Prince, Professor Crick Lund, Dr Matteo Cella, Dr Rosie Mayston and Rebecca Jopling.
AMARI was launched in May 2015 under Wellcome Trust's programme for Developing Excellence in Leadership, Training and Science (DELTAS) in Africa. The initiative is led by the University of Zimbabwe, and includes Addis Ababa University, University of Malawi, University of Cape Town, King's College London, London School of Hygiene and Tropical Medicine and University of Liverpool. AMARI is currently funding 37 mental health African research students.
Article credit: Biggy Dziro