Professor Sir Graham Thornicroft Knighted
Professor Sir Graham Thornicroft invested with a Knighthood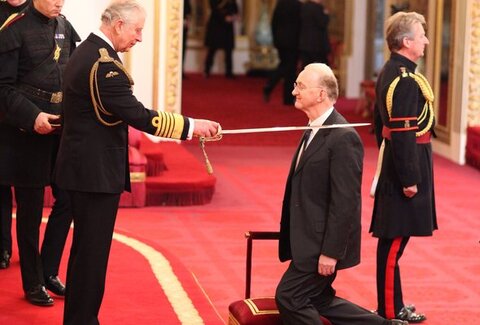 Professor Sir Graham Thornicroft was invested on 1st February with a Knighthood for services to Mental Health. Sir Graham was invested at Buckingham Palace by His Royal Highness the Prince of Wales, having been recognised in Her Majesty The Queen's Birthday Honours 2017.
Sir Graham is Professor of Community Psychiatry in the Health Service and Population Research (HSPR) Department at the Institute of Psychiatry, Psychology & Neuroscience, Consultant Psychiatrist for the South London and Maudsley NHS Foundation Trust (SLaM), Director of the National Institute for Health Research Collaboration for Leadership in Applied Health Research and Care (CLAHRC) South London and Director, King's Improvement Science.
Sir Graham has made significant contributions to the development of mental health policy in England, including Chairing the External Reference Group for the National Service Framework for Mental Health, the national mental health plan for England for 1999-2009. Sir Graham also chaired the World Health Organisation Guideline Development Group for the Mental Health Gap Action Programme Intervention Guide, a practical support for primary care staff in low income settings to help treat people with mental health problems, now used in over 90 countries worldwide.
Professor Thornicroft specialises in ways to reduce the stigma and discrimination associated with mental illness - he has led the evaluation of Time to Change, the national programme to reduce mental health stigma in England, ensuring that advances in the field are evidence based.
Sir Graham said: 'The award of this Queen's Birthday Honour is in recognition of work dedicated to improving mental health. To try to achieve this, all the work I do is with teams of outstanding collaborators: people who use mental health services, family members, and colleagues in policy, clinical and research settings. Increasingly we see that the importance of mental health is being recognised at all levels, both in Britain and worldwide. Indeed our Royal Family is now in the vanguard of these efforts. My hope is that this award will further strengthen these global efforts to end the stigma of mental illness and to provide everyone with mental health problems with the support and care they need.'
Professor Ian Everall, Executive Dean King's IoPPN said: 'The IoPPN and King's are very proud that Professor Sir Graham Thornicroft has been honoured in this way. He has made and continues to make an outstanding contribution to mental health in our communities locally, nationally and globally. His work has impacted significantly to combat stigma and discrimination and to provide better services.'
Sir Graham joined (the then) Institute of Psychiatry in April 1992, formed HSPR in 1999 and was Head of Department until 2013. While Head of Department HSPR won the Queen's Anniversary Prize for institutions of higher and further education across the UK for work of outstanding excellence. Sir Graham has been a Consultant Psychiatrist in SLaM since1991, and currently is working in a community mental health team the Lambeth Early Onset (LEO) team, a specialist team to help people living in Lambeth who are experiencing psychosis for the first time. To date, Sir Graham has 500 publications and has written or edited 30 books, seven of which have won awards.
(Article via IoPPN): https://www.kcl.ac.uk/ioppn/news/records/IoPPN-news.aspx