The Lancet Prize at the Global Mental Health Conference 2018
The Lancet Prize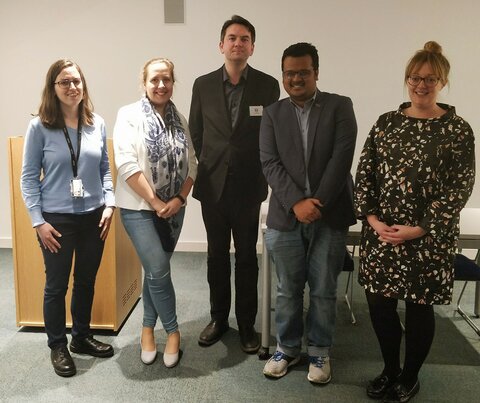 We are pleased to announce that Dr M. Tasdik Hasan received the 'Lancet Prize' for his poster on 'Post-disaster Mental Health Services in Coastal Bangladesh' at the Global Mental Health Conference (2018) at the Templeton Green College in Oxford University.
Dr. Hasan is a Commonwealth Scholar from Bangladesh currently enrolled in the MSc for Global Mental Health at the London School of Hygiene and Tropical Medicine (LSHTM) and King's Institute of Psychiatry Psychology and Neuroscience (IoPPN). This is the second award Dr. Hasan has been awarded, his first being the 'New Voices in Global Health Award' at the World Health Summit in Berlin (2017).
Dr. Hasan's work in Bangladesh focuses on the gap in mental health service provision for populations affected by cyclones around the coastlines given that the mental health of people suffering from the consequences of such natural disasters is often neglected. His study found a significant dearth of humanitarian mental health initiatives available for disaster-affected populations with reportedly high levels of psychological distress. In addition to highlighting this crucial treatment gap, Dr. Hasan and his team called for more responsive, sustainable and resilient health systems in the country as a solution to the problem.
'The Lancet Prize' was awarded by Dr. Niall Boyce, Editor-in-Chief of The Lancet Psychiatry. Dr. Hasan reported feeling proud to represent LSHTM and King's IoPPN at international forums and said he would continue to 'achieve excellence to contribute effectively in the global mental health area'.