LSHTM Research Degrees Poster Prize Winner 2018
CGMH PhD Student Awarded LSHTM Research Degree Poster Prize 2018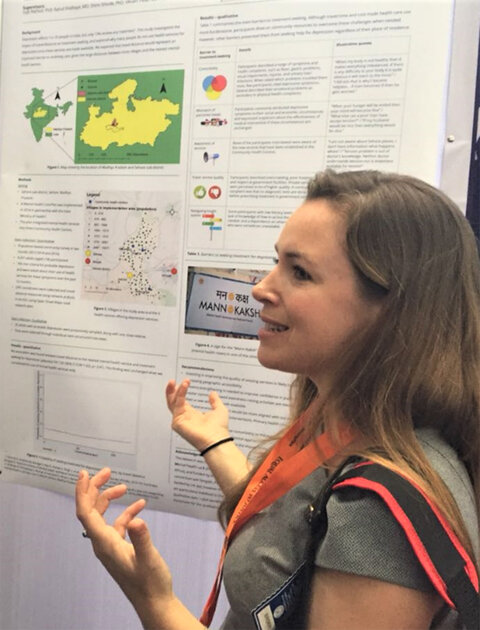 Tessa Roberts is currently in the final year of a PhD at the Centre for Global Mental Health (CGMH) at the London School of Hygiene & Tropical Medicine (LSHTM), and also works as a Research Associate on INTREPID II at the Institute of Psychiatry, Psychology & Neuroscience, King's College London. Her PhD research is nested in the PRIME programme and focusses on barriers to mental health care access in rural India.
CGMH is happy to announce that Tessa was recently awarded a prize for her poster entitled "Why don't people in rural India seek treatment for depression?" at the annual LSHTM research degrees poster day. Her poster summarised the results of a mixed methods study that used Geographic Information Systems (GIS) and qualitative methods to explore barriers to treatment-seeking for depression in the district of Sehore, Madhya Pradesh, where integrated mental health services are being delivered through primary care as part of the PRIME programme.
The results of the spatial analysis demonstrated that travel distance to the nearest service offering treatment for depression was not associated with reduced treatment-seeking, contrary to expectations. Even those living in the immediate vicinity of a public clinic offering integrated mental health services had low odds of seeking care for depressive symptoms, with no difference in treatment-seeking rates between this group and those living 20km or more from the nearest facility.
The qualitative study identified several demand-side barriers to accessing care, including low perceived quality of public health services, low awareness of the new services, and a mismatch between people's own assessment of their health care needs and expectations about what health services can offer. Tessa's research calls for a focus on systems strengthening to increase confidence in public services, greater community engagement in the roll-out of a new service, increased collaboration with organisations working on the social determinants of mental health outside of the health system, and a recognition of comorbidity as the norm rather than the exception when providing interventions for people with depression.
Both studies are currently in preparation for publication and will be shared via the CGMH and MHIN sites in due course. For more details on Tessa's research, please contact her at Tessa [dot] roberts [at] lshtm [dot] ac [dot] uk.